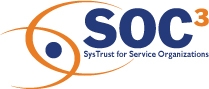 Wolf & Company Issues Report on Controls over Availability, Processing Integrity, Confidentiality and Privacy
Lexington, MA, November 19, 2013 – Daymark Solutions, a leading provider of information technology solutions, announced that it has undergone a Service Organization Control 3 SM examination resulting in a CPA's report stating that the management of Daymark maintained effective controls over the availability, processing integrity, confidentiality and privacy of its Daymark DPS Enterprise cloud-based backup solution. Wolf & Company, P.C. of Boston, MA, performed the engagement.
A SOC 3 SM report is designed to meet the needs of existing or potential customers who need assurance about the effectiveness of controls at a service organization that are relevant to the security, availability, or processing integrity of the system used by the service organization to process customer's information or the confidentiality or privacy of that information.
Because SOC 2 and SOC 3 independently verify the validity and functionality of controls and processes in place, Daymark customers can be assured of the highest level of internal security. "We are pleased that our SOC 3SM report has shown that we have the appropriate controls in place to mitigate risks related to security, availability, processing integrity, confidentiality, and privacy principles," said Bruce Hall, Director of Managed Services at Daymark. "Additionally Daymark has achieved SOC 2 SM validation – further demonstrating to our customers our commitment to the highest data security standards."
The following principles and related criteria have been developed by the American Institute of CPAs (AICPA) and the Canadian Institute of Chartered Accountants (CICA) for use by practitioners in the performance of trust services engagements:
Security – The system is protected against unauthorized access (both physical and logical)
Availability – The systems is available for operation and use as committed or agreed
Processing Integrity – System processing is complete, accurate, timely and authorized
Confidentiality – Information designated as confidential is protected as committed or agreed
Privacy – Personal information is collected, used, retained, disclosed and destroyed in conformity with the commitments in the entity's privacy notice and with criteria set forth in generally accepted privacy principles issued by the AICPA and CICA.
A SOC 3SM report is an internal control report on the services provided by a service organization to its customers and provides valuable information that existing and potential customers of the service organization need to assess and address the risks associated with an outsourced service.
About DPS Enterprise
Daymark DPS Enterprise is a secure cloud-optimized architecture to provide reliable backup, recovery, archive and disaster recovery services. It combines advanced backup and recovery software with our industry leading enterprise experience and support infrastructures. It is ideal for IT-constrained organizations and industries with compliance mandates looking for a secure, reliable and predictable data protection model.
About Daymark Solutions, Inc.
Daymark Solutions is an experienced technology solutions provider that helps organizations effectively apply technology to solve business challenges. Specializing in data center infrastructure, data protection, virtualization, cloud and managed services, Daymark architects and implements best-of-breed solutions. The company's unique combination of in-depth technical knowledge, extensive experience, and proven methodologies enable its clients to successfully address even the most difficult technology challenges. For more information, call 781-359-3000 or visit www.daymarksi.com.