Daymark Employees Refurbish Ice Cream Truck for Summer Fun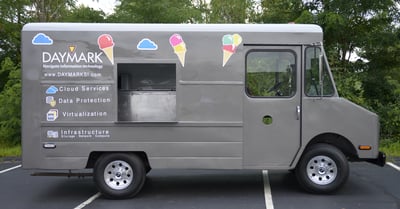 Lexington, MA, July 31, 2014 - Daymark Solutions, announced today that it's rolling out its own ice cream truck. The goal is to support customer and charitable events and raise funds for worthy causes.
Employees do all the work
When Daymark employees saw an old ice cream truck for sale they had an idea: Buy and refurbish the ice cream truck and use it for fund raising as well as customer and employee appreciation events.
In typical Daymark fashion, the employees volunteered to refurbish the truck themselves and worked on it over several months this past spring. "The truck needed a lot of TLC when we first bought it," said Corey Roberts, Director of Technology at Daymark, "but we knew it could be special if we could get enough volunteers to bring it back to life."
"We look forward to using the truck for local fund raising and customer appreciation events," added Roberts. Daymark customers and partners are encouraged to contact Daymark if they would like the ice cream truck to visit their business or charity.

About Daymark Solutions, Inc.
Daymark Solutions is an experienced technology integration and solutions provider that helps organizations throughout New England effectively architect, implement, and deploy customized solutions to help their clients grow and scale their IT infrastructure. Specializing in data center infrastructure, data protection, virtualization, cloud and managed services, Daymark's unique combination of in-depth technical knowledge, extensive experience, and proven methodologies