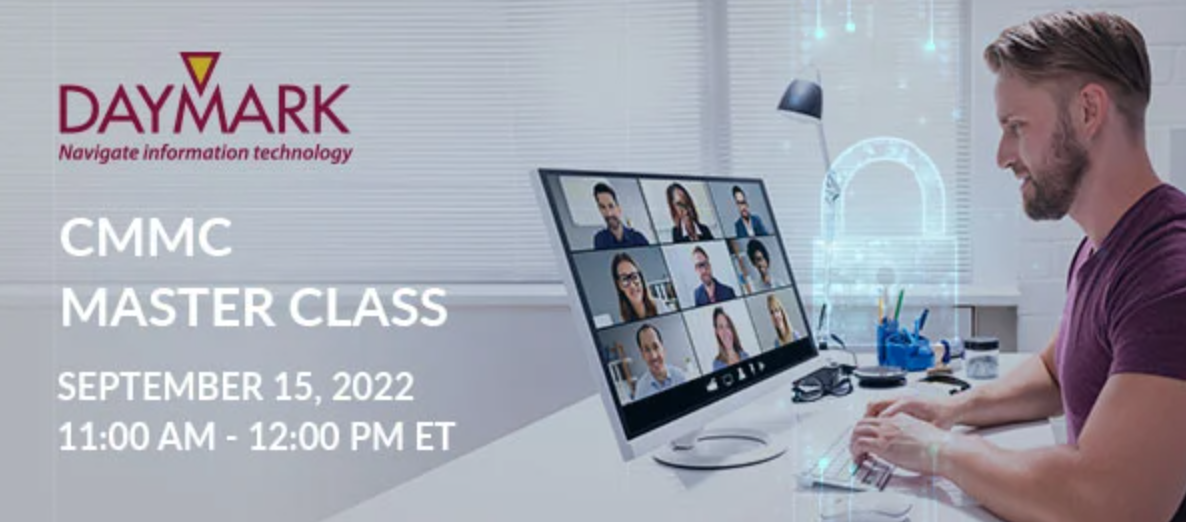 Burlington, MA, August 31, 2022 – Daymark Solutions, a leading provider of information technology solutions, announced it is hosting a complimentary master class webinar on the Cybersecurity Maturity Model Certification (CMMC) framework on September 15, 2022. The Framework is used by the DoD to verify that sensitive data being handled by defense industrial base (DIB) contractors is properly protected to avoid risk of a compromise from a cybersecurity attack and prevent unauthorized access to CUI (Controlled Unclassified Information).
Despite updates in CMMC (from version 1.0 to 2.0) designed to simplify requirements, keeping up with CMMC changes and preparing for CMMC compliance can be overwhelming. This webinar will illustrate Microsoft security configurations and the related CMMC controls that need to be in place as well as the solutions that can be implemented to prepare for compliance.
In this one-hour complimentary webinar, Daymark expert consultants will provide an in-depth look at how to design a Zero Trust environment using Microsoft solutions: Azure AD Premium, Defender for Cloud Apps and Intune – Endpoint Manager.
Read More