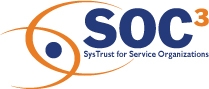 Wolf & Company Issues Report on Controls over Availability, Processing Integrity, Confidentiality and Privacy
Lexington, MA, November 19, 2013 – Daymark Solutions, a leading provider of information technology solutions, announced that it has undergone a Service Organization Control 3 SM examination resulting in a CPA's report stating that the management of Daymark maintained effective controls over the availability, processing integrity, confidentiality and privacy of its Daymark DPS Enterprise cloud-based backup solution. Wolf & Company, P.C. of Boston, MA, performed the engagement.
A SOC 3 SM report is designed to meet the needs of existing or potential customers who need assurance about the effectiveness of controls at a service organization that are relevant to the security, availability, or processing integrity of the system used by the service organization to process customer's information or the confidentiality or privacy of that information.
Read More