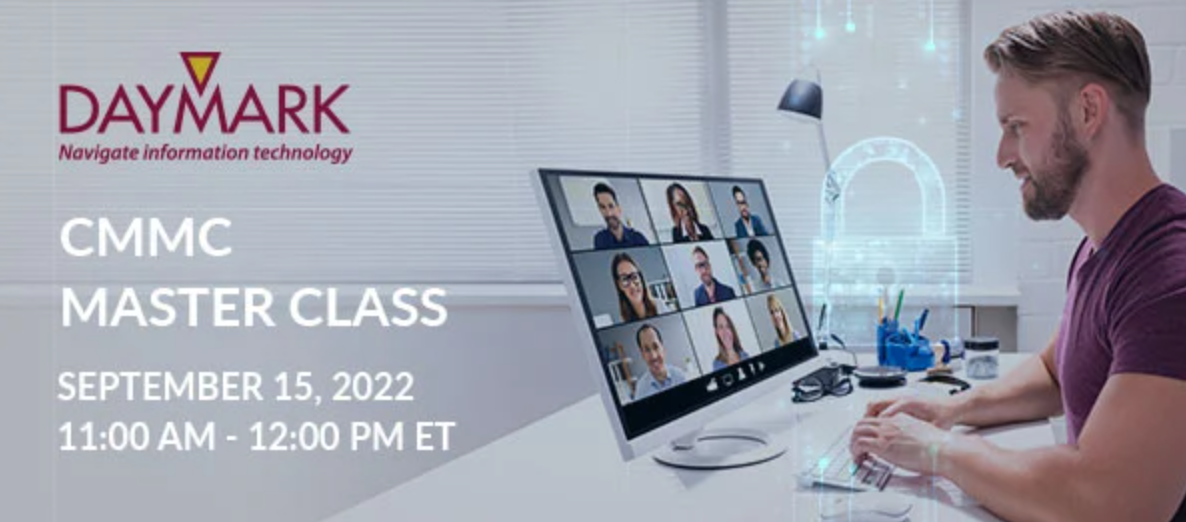 Burlington, MA, August 31, 2022 – Daymark Solutions, a leading provider of information technology solutions, announced it is hosting a complimentary master class webinar on the Cybersecurity Maturity Model Certification (CMMC) framework on September 15, 2022. The Framework is used by the DoD to verify that sensitive data being handled by defense industrial base (DIB) contractors is properly protected to avoid risk of a compromise from a cybersecurity attack and prevent unauthorized access to CUI (Controlled Unclassified Information).
Despite updates in CMMC (from version 1.0 to 2.0) designed to simplify requirements, keeping up with CMMC changes and preparing for CMMC compliance can be overwhelming. This webinar will illustrate Microsoft security configurations and the related CMMC controls that need to be in place as well as the solutions that can be implemented to prepare for compliance.
In this one-hour complimentary webinar, Daymark expert consultants will provide an in-depth look at how to design a Zero Trust environment using Microsoft solutions: Azure AD Premium, Defender for Cloud Apps and Intune – Endpoint Manager.
This CMMC Master Class will cover:
Conditional Access

Device Compliance

Session based controls

MAM policies

Privileged Identity Management

CMMC domain controls satisfied using these features
This CMMC Master Class is complimentary, but space is limited. Register here.
Daymark Government Services
Daymark is a Microsoft Licensing Partner for Microsoft 365 Government Community Cloud (GCC), GCC High and Azure Government. GCC and GCC High are secure platforms designed for U.S. federal, state, and local governments, as well as for organizations that deal with government data that falls under strict regulatory requirements. GCC and GCC High enable Defense Industrial Base (DIB) organizations to meet compliance requirements such as the Cybersecurity Maturity Model Certification 2.0 (CMMC). Daymark is among a select group of resellers authorized to license GCC High and Azure Government for businesses with 500 seats or less. Learn more at www.daymarksi.com/government.
About Daymark Solutions
Daymark Solutions is an experienced technology integration and solutions provider that helps organizations throughout North America effectively architect, implement, and deploy customized solutions to help their clients grow and scale their IT infrastructure. Specializing in data center infrastructure and cloud solutions, Daymark's unique combination of in-depth technical knowledge, extensive experience, and proven methodologies enable its clients to successfully address even the most difficult technology challenges. For more information, call 781-359-3000 or visit www.daymarksi.com.