Burlington, MA - August 3, 2011
- Daymark Solutions, a leading provider of information technology solutions to companies in the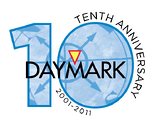 northeastern United States, celebrates its 10
th
year anniversary today. Since its founding August 3, 2001, Daymark has grown from a 4-person start-up with a handful of customers with "storage challenges" to an organization that has helped hundreds of customers navigate the complexity of today's technology landscape.
"Ten years ago we saw the need for an objective, hands-on approach to identifying and solving customers' technology problems," said President and Co-founder Tim Donovan. "Ensuring reliable backup and recovery is a chore for most organizations. Thanks to the expertise and dedication of our employees, we have implemented hundreds of solutions for our customers to meet their specific objectives. Over the last several years, we've expanded our expertise and offerings to encompass consulting services in security, virtualization and cloud computing and have gained considerable industry expertise to understand the unique challenges in industries such as financial services, healthcare, biotech and manufacturing."
A decade later, Daymark has achieved many milestones and accolades including:
Boston Business Journal Best Places to Work 2010, 2011
200+ technical certifications
Strategic partnerships with industry leaders including EMC, VMware, IBM, NetApp, Symantec and many more
2011 CRN Tech 250 Elite
"Reaching a ten year milestone speaks volumes about the depth of Daymark's technical expertise," said Jeff Hine, an analyst with Enterprise Strategy Group. "Daymark's professional services team, combined with their vendor neutral approach, helps organizations solve real technical problems in the most strategic yet efficient way possible."
"When we started in 2001, we had one small office in New Hampshire with 2,000 sq. feet. We've moved three times and now have over 14,000 sq. feet at our headquarters in Burlington, MA which includes a full integration center and demo lab," Donovan stated. "We have also opened offices in Nashua, NH and East Granby, CT to better serve our customers throughout the northeast. We have seen dramatic changes in technology over the last 10 years and expect the next 10 years to be just as exciting. We look forward to meeting our clients' unique IT challenges with our highly-trained, hands-on professionals who take a great deal of pride in working with customers to solve their toughest IT issues."
About Daymark Solutions, Inc.
Daymark Solutions, Inc. is an experienced technology solutions provider focused on architecting, providing and implementing effective server, storage, network and security solutions for businesses in the northeastern United States. Our mission is to help you use technology effectively to solve the business challenges you face today, while making sure your systems are agile enough to adapt to future requirements. For more information, call 781-359-3000 or visit www.daymarksi.com.