Comprehensive Assessment Highlights Key Areas of Data Center Efficiencies
Lexington, MA, December 3, 2013 – Daymark Solutions, a leading provider of information technology solutions, today announced the introduction of a new comprehensive service offering, Daymark Gradient™. Daymark Gradient provides clients with an expert and comprehensive assessment of key areas of their data center environment. This independent evaluation reviews:
Overall system health
Existing architecture
Alignment to best practices
System performance
Support
Based on extensive criterion, Daymark experts dive deep into each of these areas and then provide rankings and detailed long and short-term recommendations based on the findings. The result is an executive report and presentation matrix that visually brings to life an environment's strengths and weaknesses.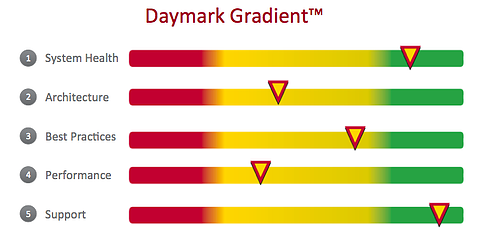 Daymark's proven methodology uncovers inefficiencies and vulnerabilities and identifies areas where improvements can have a positive impact on an organization's data management strategy. The Gradient Assessment can be an eye-opener for clients who report that they learn things about their data, systems or processes they did not know. The granular level of detail, combined with Daymark's expert recommendations, makes next steps easy to prioritize.
"Daymark is excited to announce the release of its Gradient assessment offering. This comprehensive new service deliverable incorporates 12 years of customer feedback and interaction into an easy-to-understand and very prescriptive report," said Sean Gilbride, Director of Professional Services at Daymark. "Response from our customers has been fantastic. The Gradient assessment enables them to easily see where things are solid and where more work needs to be done. Our clients have really seen the value that this straightforward approach provides."
To learn more about Gradient or to inquire about an assessment, visit us at www.daymarksi.com/gradient.
About Daymark Solutions, Inc.
Daymark Solutions is an experienced technology solutions provider that helps organizations effectively apply technology to solve business challenges. Specializing in data center infrastructure, data protection, virtualization, cloud and managed services, Daymark architects and implements best-of-breed solutions. The company's unique combination of in-depth technical knowledge, extensive experience, and proven methodologies enable its clients to successfully address even the most difficult technology challenges. For more information, call 781-359-3000 or visit www.daymarksi.com.