Annual List Recognizes IT Solution Providers with Deep Technical Expertise and Premier Certifications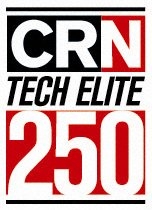 Lexington, MA, April 14, 2014 – Daymark Solutions today announced it has been named to CRN's annual list of the Tech Elite 250. These companies represent an elite group of IT solution providers that have invested in the training and education needed to earn the most advanced technical certifications from leading vendors.
In compiling the list, CRN editors worked with The Channel Company's research group to define the most customer-beneficial technical certifications in the IT channel. These technical certifications – from vendors including Cisco, Citrix, Dell, EMC, HP, IBM, NetApp, Microsoft, VMware, and Symantec – have enabled solution providers to deliver the most premium products, service and support to their North American customers.
Daymark Solutions is an experienced technology solutions provider focused on architecting, providing and implementing effective data center infrastructure, data protection, virtualization and managed and cloud services throughout the Northeast. The company's primary mission is to help its clients use technology effectively to solve the business challenges they face today, while making sure their systems are agile enough to adapt to future requirements.
"The solution providers highlighted on our annual Tech Elite 250 have demonstrated a commitment to excellence and gained industry credibility by investing in the IT certifications necessary to stay competitive and deliver the highest level of service to their customers, " said Robert Faletra, CEO, The Channel Company. "These featured solution providers have enhanced and strengthened their partnerships by earning some of the most difficult certifications from some of the biggest names in IT. We congratulate these organizations and look forward to their continued success."
"With more than 250 certifications across a wide range of technologies and vendors, Daymark puts a premium on ensuring our consultants are among the most knowledgeable in the industry. This deep technical expertise, combined with our strong partnerships with leading technology providers, enables us to architect and deliver highly-optimized solutions for our clients at a competitive price," said Jeff Rushton, CFO at Daymark Solutions. "We are very pleased to receive this recognition from CRN for a fourth straight year."
Coverage of the Tech Elite 250 will be featured in the April issue of CRN, and online at www.CRN.com.
About Daymark Solutions, Inc.
Daymark Solutions is an experienced technology solutions provider that helps organizations effectively apply technology to solve business challenges. Specializing in data center infrastructure, data protection, virtualization, cloud and managed services, Daymark architects and implements best-of-breed solutions. The company's unique combination of in-depth technical knowledge, extensive experience, and proven methodologies enable its clients to successfully address even the most difficult technology challenges. For more information, call 781-359-3000 or visit www.daymarksi.com.
About The Channel Company
The Channel Company is the channel community's trusted authority for growth and innovation, with established brands including CRN, XChange Events, IPED, and SharedVue. For more than three decades, we have leveraged our proven and leading-edge platforms to deliver prescriptive sales and marketing solutions for the technology channel. The Channel Company provides Communication, Recruitment, Engagement, Enablement, Demand Generation and Intelligence services to drive technology partnerships. Learn more at www.thechannelcompany.com.