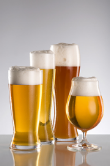 Lexington, MA, February 25, 2015 - Daymark Solutions, a leading integration and solution provider of information technology in New England, today announced that, together with EMC and Spiegelau, it is hosting a special event of craft beer tasting on March 12, 2015. The event will combine highlights of the features and benefits of EMC XtremIO, an all-flash, scale-out enterprise storage array, with a fun evening of craft beer tasting.
The beer tasting portion of the event will be hosted by Matthew Rutkowski, VP of Spiegelau's craft beer division, and attendees will receive a complementary set of craft glasses to take home. The event will take place at Doubletree Suites in Boston.
About EMC XtremIO
Attend this event and learn how Daymark and EMC can help you deliver:
New levels of real-world performance - Substantially improving I/O performance through scale-out enterprise storage arrays

Administrative ease - EMC XtremIO ensures your system remains balanced and always delivers the highest levels of performance without any administrator intervention

Advanced data services for applications - Provision storage in seconds, monitor the environment with real-time metrics, and easily report on savings from thin provisioning and data reduction
Availability for this event is limited and is expected to fill up fast - sign-up today to secure your spot.
About Spiegelau Glass
Craft beer lovers will fully enjoy each sip of their favorite beer with Spiegelau's Craft Beer Tasting Set. Spiegelau, the world's oldest glass manufacturer, made this craft beer set using its trademark qualities of design excellence and durability. Each set includes:
Wheat Beer Glass, 17 oz (for German Wheat, Belgian White, Witbier, and Wheat Ales)

IPA Glass, 19 oz (for India Pale Ales)

Lager Glass, 17 2/3 oz (for Pale Lagers, Ales and English Strong Ales)

Beer Tulip, 14 1/9 oz (for Stouts, Belgian Style Ales, Pilser Stouts, Belge, and Pilsners)
About Daymark Solutions, Inc.
Daymark Solutions is an experienced technology integration and solutions provider that helps organizations throughout New England effectively architect, implement, and deploy customized solutions to help their clients grow and scale their IT infrastructure. Specializing in data center infrastructure, data protection, virtualization, cloud and managed services, Daymark's unique combination of in-depth technical knowledge, extensive experience, and proven methodologies enable its clients to successfully address even the most difficult technology challenges. For more information, call 781-359-3000 or visit www.daymarksi.com.