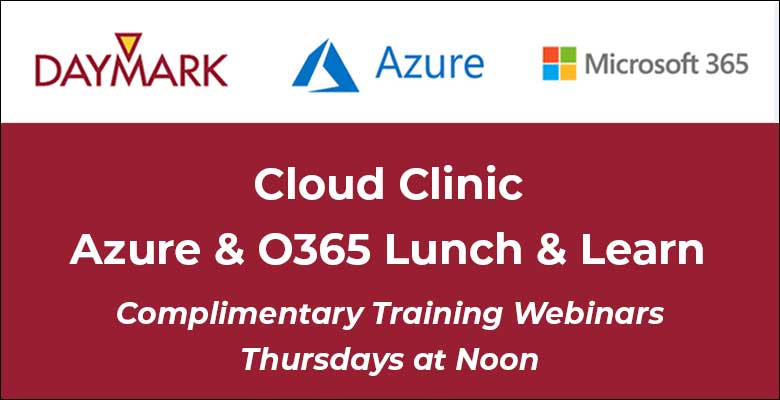 Microsoft Azure and Office 365 Lunch & Learn Sessions
Burlington, MA, October 19, 2020 - Daymark Solutions, a leading provider of information technology solutions, today announced that it is launching "Daymark Cloud Clinic," a series of lunch & learn sessions centered on Microsoft® Azure and Office 365. The complimentary training webinars will be offered on Thursdays, 12:00-12:45 pm ET and will cover a wide range of detailed features available in Azure and Office 365.
"The goal of the Cloud Clinic is to provide technical tips on how to keep users' cloud environments highly optimized and secure in under an hour," said Sean Gilbride, Chief Technology Officer for Daymark. "We'll be walking attendees through step-by-step demos and lessons we've learned from our many cloud deployments. We're offering seven sessions this fall. People are welcome to sign up for as many as they would like !"
Daymark Cloud Clinic Schedule – All Sessions Run Thursdays 12:00 – 12:45 pm ET
Oct. 22 – Azure AD App Proxy – Quick Setup
Enabling App Proxy service in Azure AD

Installation and configuration of agents on-premises

Required outbound firewall openings

Configuring App Proxy to on-premises application
Oct. 29 – Save Money with Reserved Instances
Tips to lower monthly Azure invoices
Cloud consumption vs. on-premises consumption
Considerations for committing to terms
Purchasing reserved instances
Nov. 5 – Azure Sentinel – Threat Hunting in Azure AD
Overview of Sentinel functionality

How to add data collectors

Building and running custom queries

Reviewing outputs and understanding threats
Nov. 12 – Optimize Your Azure Environment with Azure Advisor
Overview of Azure Advisor
Review of recommendation categories
Optimizing security, reliability and performance
Understanding Azure Score
Nov. 19 – Zero Trust Model – Securing Your Identities
Zero Trust strategy for securing Azure AD identities

How to enact the principle of least privilege

How to enact the principle of verify explicitly

How to enact the principle of assume breach
Dec. 3 – Security Center Overview
What is Security Center and tiers of service
Critical configuration issues
Security recommendations and recommendation remediation
What your Security Score means
Dec. 10 – Continuous Access Evaluation
Continuous access evaluation (CAE) overview
Two CAE scenarios: Critical event evaluation and Conditional Access policy evaluation
Enabling CAE and Use case scenarios
CAE current limitations
All training webinars are complimentary to attend, but registration is required.
Register here for the Daymark Cloud Clinic.
About Daymark Solutions
Daymark Solutions is an experienced technology integration and solutions provider that helps organizations throughout New England effectively architect, implement, and deploy customized solutions to help their clients grow and scale their IT infrastructure. Specializing in data center infrastructure, data protection, virtualization, cloud and support services, Daymark's unique combination of in-depth technical knowledge, extensive experience, and proven methodologies enable its clients to successfully address even the most difficult technology challenges. For more information, call 781-359-3000 or visit www.daymarksi.com.