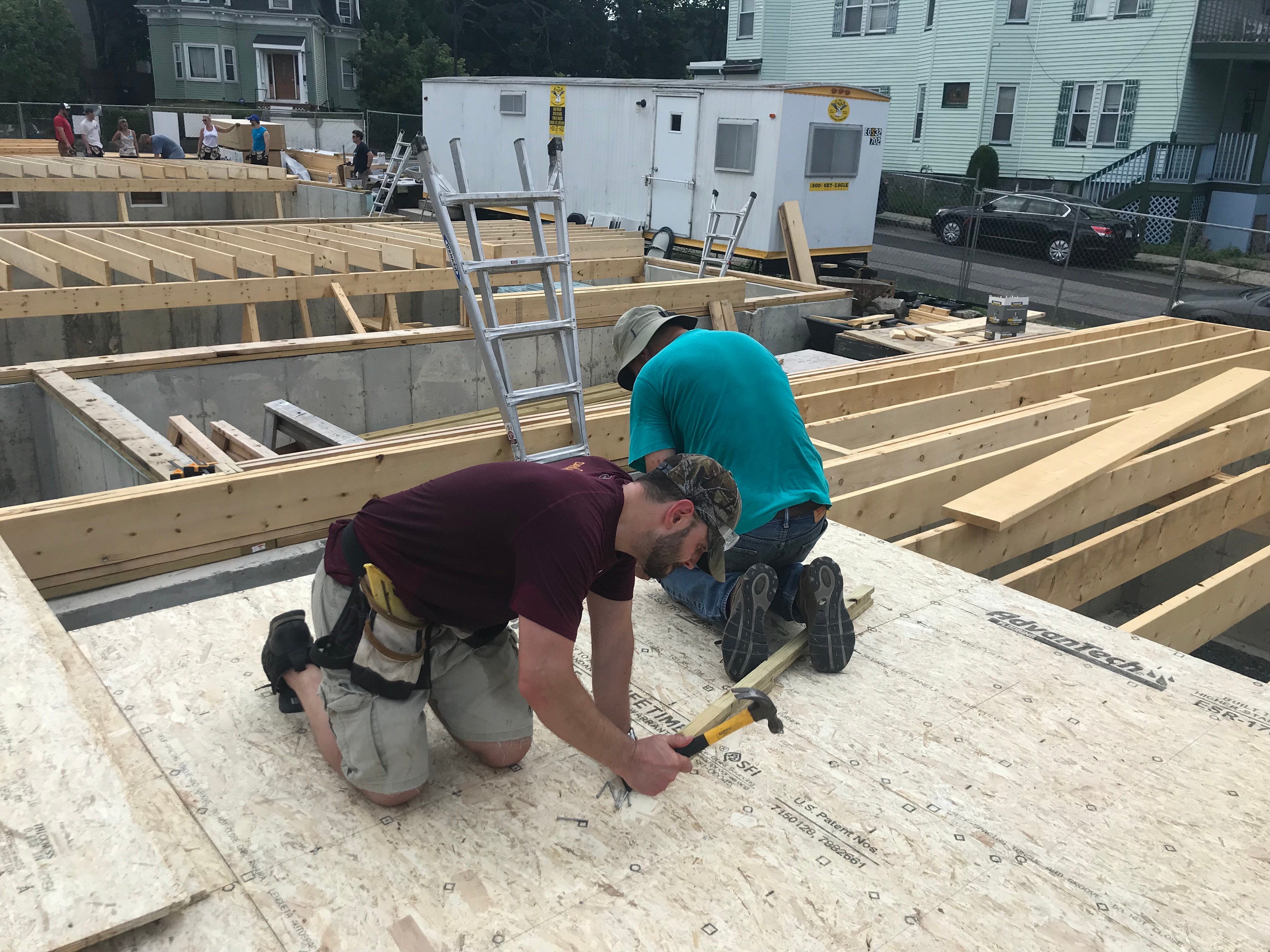 Lexington, MA, August 29, 2018 – Daymark Solutions, a leading provider of information technology solutions, today announced that for the 5th consecutive year its employees are providing "hands-on" support to help Boston Habitat for Humanity with its current housing project. The Daymark group of volunteers worked tirelessly on the construction of Habitat Greater Boston's newest location, Balina Place, in Dorchester, MA.
Balina Place is a five-unit condominium project. The units at Balina Place will be three stories, approximately 1,300 square feet each, and each unit will have three or four bedrooms, 1.5 bathrooms, a kitchen, and a living room-dining area. The project is conveniently located close to the Fairmont Commuter Rail line and the Shawmut T stop.
Daymark has been supporting Habitat for Humanity since 2013. We thank all our volunteers for giving back to the community. Anyone wishing to donate to Habitat for Humanity can do so here.
About Greater Boston Habitat for Humanity
Habitat Greater Boston was established in 1987 to serve the City of Boston and the surrounding 25 cities and towns as an independent affiliate of Habitat International. With a mission to help families help themselves by providing an opportunity to break generational cycles of poverty through homeownership, Habitat Greater Boston builds low-cost homes by forming partnerships with low income families in need of decent and affordable housing, and believes that everyone deserves the opportunity to live in a safe, decent environment.
About Daymark Solutions, Inc.
Daymark Solutions is an experienced technology integration and solutions provider that helps organizations throughout New England effectively architect, implement, and deploy customized solutions to help their clients grow and scale their IT infrastructure. Specializing in data center infrastructure, data protection, virtualization, cloud and managed services, Daymark's unique combination of in-depth technical knowledge, extensive experience, and proven methodologies enable its clients to successfully address even the most difficult technology challenges. For more information, call 781-359-3000 or visit www.daymarksi.com.