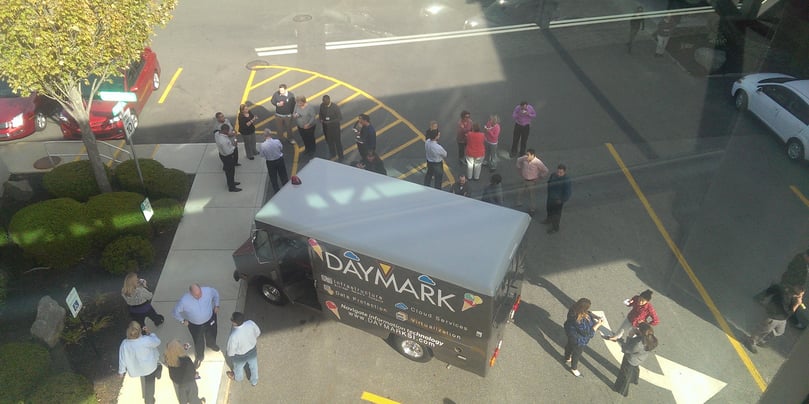 Lexington, MA July 16, 2015 - The Daymark ice cream truck is on a roll again this summer and after a makeover this past winter, it's better than ever! The Daymark ice cream truck is a real customer favorite sharing frozen treats at company offices and corporate events all over New England. The truck is in high demand, so now is the time to call your Daymark contact to schedule a visit.
History of the Daymark Ice Cream Truck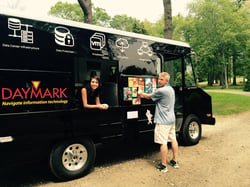 Why does Daymark have an ice cream truck? Two years ago Corey Roberts, Daymark Director of Technology, who also moonlights as part of a NASCAR pit crew, saw an old ice cream truck for sale. It was in rough shape, but Corey had a vision that together with the help of fellow "Daymarkians" they could turn the ugly duckling into a swan. And that's just what they did! Rallying 18 fellow employees, they clocked over 2500+ man-hours to refurbish the truck, working several weekends to get it ready to roll (literally) for some summer fun.
5 Fun Reasons to Schedule Your Ice Cream Truck Visit Today
The truck has been used for fund raising and customer appreciation events and has served over 1,000 tasty treats to date. If you really need a reason to eat ice cream, how about some of these?'
You want to thank your fellow employees for all their hard work
You're planning a charitable corporate event and want to turn up the fun meter
You want to challenge your colleagues to an ice cream eating contest
You want to see your manager have a major "brain freeze"
It's hot and who doesn't love ice cream?
Ice Cream Truck FAQ
Q. How do I schedule a visit?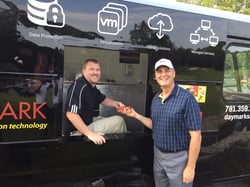 A. Contact Allison Higgins, 781-359-3000 or ahiggins@daymarksi.com
Q. How many people can you accommodate?
A. The truck holds 400 ice creams. So 400 people can have one ice cream each or 80 people can have five each – it's up to you!
Q. Can I request special flavors?
A. Yes you can. We'll do our best to find them
Q. What if someone has food allergies?
A. Please let us know ahead of time
What are you waiting for? Click on the link to schedule a visit. Your friends will thank you!