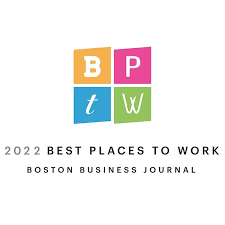 Burlington, MA, May 4, 2022 - Daymark Solutions, a leading provider of information technology solutions, today announced that it has been named by the Boston Business Journal (BBJ) as one of the 2022 Best Places to Work — the BBJ's exclusive ranking of the Massachusetts companies that have built remarkable work environments for their people. It is the 13th year-in-a-row that Daymark has earned this distinction. This year marks the 20th annual Best Places to Work awards for the Business Journal, the first and longest-running awards program recognizing the top workplaces in the city.
"It's lucky 13 for us this year," said Tim Donovan, President of Daymark. "We are truly honored to receive this award once again. Our employees consistently go the extra mile for our customers and continually demonstrate their commitment to solving clients' complex technical challenges."
Businesses honored participated in employee-engagement surveys distributed by Business Journal partner Quantum Workplace. Employees were asked to rate their work environment, work-life balance, job satisfaction, advancement opportunities, management, compensation and benefits.
All Best Places to Work honorees will be celebrated at a special event at the Boston Park Plaza on June 16, 2022.
About Daymark Solutions
Daymark Solutions is an experienced technology integration and solutions provider that helps organizations throughout North America effectively architect, implement, and deploy customized solutions to help their clients grow and scale their IT infrastructure. Specializing in data center infrastructure and cloud solutions, Daymark's unique combination of in-depth technical knowledge, extensive experience, and proven methodologies enable its clients to successfully address even the most difficult technology challenges. For more information, call 781-359-3000 or visit www.daymarksi.com.