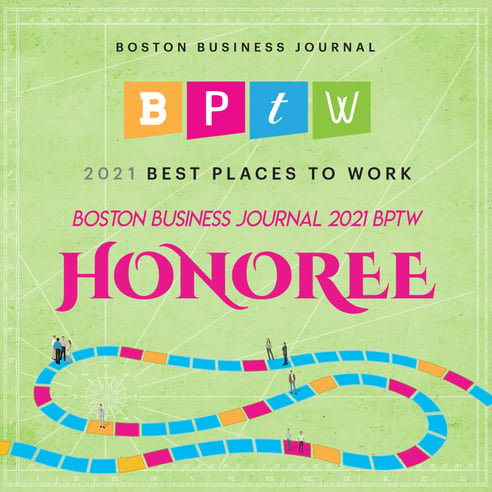 Burlington, MA, April 16, 2021 - Daymark Solutions, a leading provider of information technology solutions, today announced that it has been named by the Boston Business Journal (BBJ) as one of the 2021 Best Places to Work — the BBJ's exclusive ranking of the Massachusetts companies that have built outstanding work environments for their people. It is the 12th year-in-a-row that Daymark has earned this distinction.
"Our employees stepped up in every possible way this past year to make sure our business, as well as our clients' businesses, were successful," said Tim Donovan, President of Daymark. "Their commitment and ability to be creative and flexible has been extraordinary and we are honored to win this award from the BBJ for the 12th consecutive year."
Businesses honored participated in employee-engagement surveys distributed by Business Journal partner Quantum Workplace. Employees were asked to rate their work environment, work-life balance, job satisfaction, advancement opportunities, management, compensation and benefits.
"In a year that has brought incredible challenges for everyone both personally and in business, it is a true testament to great organizations to be named a Best Place to Work," said BBJ's Market President and Publisher Carolyn Jones. "We congratulate all of our honorees and look forward to learning from them on how to create and sustain outstanding workplaces."
A Best Places to Work special publication is scheduled to be published in the June 18th Weekly Edition of the Business Journal and the Business Journal's virtual celebration, will be held on June 16th. The Boston Business Journal is the region's premier business media organization, one of 43 markets owned by American City Business Journals.
About Daymark Solutions
Daymark Solutions is an experienced technology integration and solutions provider that helps organizations throughout New England effectively architect, implement, and deploy customized solutions to help their clients grow and scale their IT infrastructure. Specializing in data center infrastructure, data protection, virtualization, cloud and support services, Daymark's unique combination of in-depth technical knowledge, extensive experience, and proven methodologies enable its clients to successfully address even the most difficult technology challenges. For more information, call 781-359-3000 or visit www.daymarksi.com.