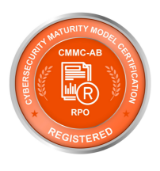 Burlington, MA, March 10, 2022 - Daymark Solutions, a leading provider of information technology solutions, today announced that it has been approved by the Cybersecurity Maturity Model Certification Accreditation Body (CMMC-AB) as a CMMC Registered Provider Organization (RPO). The RPO registration enables Daymark to provide advice, consulting and recommendations on the CMMC Framework.
The Department of Defense (DoD) created the CMMC as a cybersecurity standard for the Defense Industry Base (DIB). CMMC is required for all DoD contractors dealing with Controlled Unclassified Information (CUI) such as CTI, CDI and ITAR data. Companies that hold or create CUI will be required to demonstrate CMMC compliance via a CMMC third party assessor organization. CMMC provides the DoD with assurance that contractors and subcontractors are meeting DoD's cybersecurity requirements.
"As a recognized CMMC RPO, we are able to help DIB contractors understand the mandated requirements they must meet in order to prepare for a CMMC assessment," said Steve Caprio, Manager, Modern Workplace at Daymark. "The vetting by the CMMC-AB, and continued efforts to stay up to date with training and learning demonstrates Daymark's level of commitment and expertise as a trusted CMMC implementor."
Registered Provider Organizations are organizations and companies that have made a strategic decision to become part of the CMMC ecosystem by completing a background investigation, signing the Code of Professional Conduct (CoPC), and executing an agreement with the CMMC-AB. In the CMMC ecosystems, RPOs provide advice, consulting, and recommendations to Federal Government subcontractors preparing for certification. RPOs are the implementers and consultants that help organizations prepare for certification, but do not conduct certified assessments. The registration also includes listing in the CMMC-AB Marketplace, the trusted destination of approved RPOs for CMMC resources.
Daymark is also a Microsoft Licensing Partner for Microsoft 365 Government Community Cloud (GCC) and GCC High. We are experienced in enabling DIB organizations to meet strict government and regulatory compliance requirements related to CMMC controls for ITAR (International Traffic in Arms Regulations), CUI (Controlled Unclassified Information) and FCI (Federal Contract Information) data.
About Daymark Solutions
Daymark Solutions is an experienced technology integration and solutions provider that helps organizations throughout North America effectively architect, implement, and deploy customized solutions to help their clients grow and scale their IT infrastructure. Specializing in data center infrastructure and cloud solutions, Daymark's unique combination of in-depth technical knowledge, extensive experience, and proven methodologies enable its clients to successfully address even the most difficult technology challenges. For more information, call 781-359-3000 or visit www.daymarksi.com.