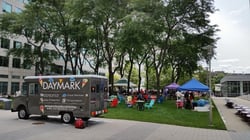 Lexington, MA, August 1, 2014 - Daymark Solutions, a leading integration and solution provider of information technology in New England, today announced its support and participation in the 2014 Young Faces of ALS (YFALS) Boston Corntoss Challenge. The event will take place on August 16, 2014 in Kendall Square, Cambridge, MA.
Created by people living with ALS who were diagnosed before their 35th birthdays, the Young Faces of ALS (YFALS) campaign is the first community for young people afflicted by ALS, as well as their families and friends. YFALS has become a catalyst for accelerating research at the ALS Therapy Development Institute through fundraising events.
The Daymark ice cream truck will be at Technology Square in Cambridge to raise funds for the event. "This is exactly the type of worthy cause Daymark employees wanted to support with the ice cream truck," said Tim Donovan, Daymark's President. "We're looking forward to an afternoon of fun playing cornhole to raise awareness and funds for more ALS research."
About the Corntoss Challenge
Since 2011, the YFALS National Corntoss Challenge has successfully brought Cornhole enthusiasts along with ALS patients and their families, friends, and supporters together for a fun-filled day of Corntoss and good company to achieve one goal: end ALS. Every dollar supports the Young Faces of ALS (YFALS) campaign, benefiting research at the ALS Therapy Development Institute (ALS.net).
About Daymark Solutions, Inc.
Daymark Solutions is an experienced technology integration and solutions provider that helps organizations throughout New England effectively architect, implement, and deploy customized solutions to help their clients grow and scale their IT infrastructure. Specializing in data center infrastructure, data protection, virtualization, cloud and managed services, Daymark's unique combination of in-depth technical knowledge, extensive experience, and proven methodologies enable its clients to successfully address even the most difficult technology challenges. For more information, call 781-359-3000 or visit www.daymarksi.com.