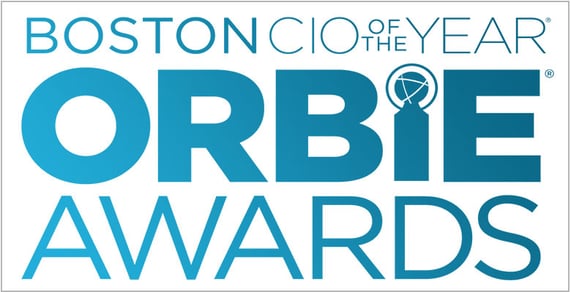 Lexington, MA, May 21, 2019 – Daymark Solutions, a leading provider of information technology solutions, today announced that it will be a sponsor of the 2019 Boston CIO of the Year® ORBIE® awards at Westin Copley Place in Boston, MA on June 7, 2019. The awards recognize outstanding technology leadership in New England.
"We are pleased to once again be supporting the Boston CIO organization and the good work they do," said Tim Donovan, President at Daymark Solutions. "This year's event has special meaning to Daymark as John Gidman, CIO and COO, of one of our long-time clients Loomis Sayles, and David Nuss, CIO of Cresa, have been named as finalists in the Enterprise and Corporate categories.
Judging criteria for the ORBIES are stringent. Finalists and winners are selected by an independent peer review process, led by prior ORBIE recipients who consider leadership and management effectiveness, business value created by technology innovation, size and scope of responsibilities, and engagement in industry and community endeavors. The ORBIE awards have been honoring excellence in technology leadership for more than 20 years.
About the Boston CIO ORBIE® Awards
The Boston CIO of the Year® ORBIE® Awards is the premier technology executive recognition program in New England. The Boston CIO of the Year ORBIE Awards honors chief information officers who have demonstrated excellence in technology leadership. CIOs are typically recognized in multiple categories, based on the size and scope of their organization and responsibilities.
About Daymark Solutions, Inc.
Daymark Solutions is an experienced technology integration and solutions provider that helps organizations throughout New England effectively architect, implement, and deploy customized solutions to help their clients grow and scale their IT infrastructure. Specializing in data center infrastructure, data protection, virtualization, cloud and managed services, Daymark's unique combination of in-depth technical knowledge, extensive experience, and proven methodologies enable its clients to successfully address even the most difficult technology challenges. For more information, call 781-359-3000 or visit www.daymarksi.com.