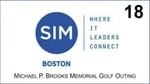 Lexington, MA, May 26, 2015 - Daymark Solutions, announced that for the 3rd year, it will be a silver sponsor for the 2015 Michael P. Brooks Memorial Golf Outing presented by SIM Boston. The fund raising event will take place on June 17th at the Cyprian Keyes Golf Club in Boylston, MA.
Fundraising Reaches Many
Proceeds from the Golf Outing are used to support the SIM Boston Community Outreach Programs and Outreach Partners: Year Up, Tech Boston, Citizen Schools, DIGITS, Common Impact and the SIM Boston Future Potential in IT program outreach to area colleges and universities. More information on this annual fundraiser can be found at http://simboston.org/golf-event-2015/
About the Boston Chapter of SIM
At the Boston Chapter of SIM, we provide leading information technology executives, consultants, and academics with a place to share ideas. Our collaborative community shares best practices, trends and lessons learned for you: the person that is responsible for shaping and influencing the future of IT and IT management.
Our goal is to provide you with access to a robust community of the area's top IT leaders so you can exchange ideas, share best practices, and stimulate your mind. As a senior-level IT profession providing both strategic and tactical direction to your division on a daily basis, you need someplace to turn for advice, answers, and guidance, too.
About Daymark Solutions, Inc.
Daymark Solutions is an experienced technology integration and solutions provider that helps organizations throughout New England effectively architect, implement, and deploy customized solutions to help their clients grow and scale their IT infrastructure. Specializing in data center infrastructure, data protection, virtualization, cloud and managed services, Daymark's unique combination of in-depth technical knowledge, extensive experience, and proven methodologies enable its clients to successfully address even the most difficult technology challenges. For more information, call 781-359-3000 or visit www.daymarksi.com.