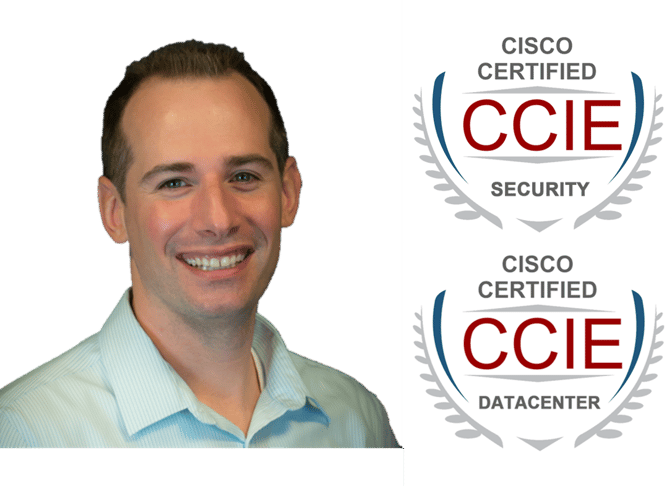 Lexington, MA, August 10, 2015 - Daymark Solutions announced today that Jay Sartori, Daymark Networking Manager, has earned the Cisco Certified Internetwork Expert (CCIE) Data Center certification to complement his CCIE Security certification. The CCIE is a prestigious addition to Daymark's long list of technical certifications and competencies.

The CCIE certification is accepted worldwide as the most prestigious networking certification in the industry. Network engineers holding an active Cisco CCIE certification are recognized for their expert network engineering skills and mastery of Cisco products and solutions. The CCIE certifies the skills required of network engineers to plan, operate and troubleshoot complex, converged network infrastructures on a wide variety of Cisco equipment.

According to Cisco, less than 3% of Cisco Certified engineers obtain CCIE certification and less than 1% of the networking professionals worldwide hold this distinction. Passing all the requirements of the rigorous program earns the individual a unique CCIE number assigned by Cisco.

"The CCIE is exceptionally difficult," said Sean Gilbride, Director of Professional Services. "We are proud of Jay's accomplishment in attaining this second CCIE certification and we are confident that this in-depth level of training will be a huge asset to our clients as Daymark helps them to navigate networking issues in a software-defined world."
About Daymark Solutions, Inc.
Daymark Solutions is an experienced technology integration and solutions provider that helps organizations throughout New England effectively architect, implement, and deploy customized solutions to help their clients grow and scale their IT infrastructure. Specializing in data center infrastructure, data protection, virtualization, cloud and managed services, Daymark's unique combination of in-depth technical knowledge, extensive experience, and proven methodologies enable its clients to successfully address even the most difficult technology challenges. For more information, call 781-359-3000 or visit www.daymarksi.com.