Second Annual Award Recognizes Standout Solution Providers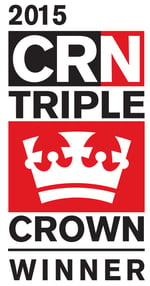 Lexington, MA, November 13, 2015 – Daymark Solutions, a leading integration and solutions provider of information technology in New England, announced that it has been honored by The Channel Company with the esteemed 2015 CRN® Triple Crown Award. Fewer than 60 North American solution providers, and only 5 from New England, had the necessary revenue, growth and technical expertise to be recognized on three of CRN's preeminent solution provider lists, earning them the Triple Crown Award this year.
CRN assembles lists and rankings each year to recognize solution providers who are setting the bar in the IT industry, including the Solution Provider 500, which lists the largest solution providers in North America by revenue; the Fast Growth 150, which ranks the fastest-growing solution providers; and the Tech Elite 250, which recognizes solution providers that have received the highest level certifications from leading vendors.
It is a considerable achievement for a solution provider to make any one of these lists. To make it onto all three, however - as this year's Triple Crown Award winners have done - a company must simultaneously have enough revenue to be ranked on the Solution Provider 500 list, record double- or triple-digit growth for recognition on the Fast Growth 150, and invest heavily in top certifications to attain Tech Elite 250 status.
"We are honored to be awarded with CRN's Triple Crown Award this year," said Brian Casey, Daymark's General Manager and COO. "We've built a business centered on trusted partnerships with our clients. Our customers know that we are committed to maintaining the deepest level of technical expertise to help them meet their business challenges and navigate the many disruptive technologies in the market."
"I am continually amazed by the commitment to excellence demonstrated by the solution providers that drive the IT channel," said Robert Faletra, CEO, The Channel Company. "The companies that have earned this year's CRN Triple Crown award are truly among the industry's elite, showing the depth and breadth of sales, technical and marketing expertise to earn recognition on our premier lists. We congratulate each of these leading solution providers and look forward to watching them thrive in the future."
Showcased in the December issue of CRN, the Triple Crown list can be previewed at crn.com/triplecrown.
About Daymark Solutions, Inc.
Daymark Solutions is an experienced technology integration and solutions provider that helps organizations throughout New England effectively architect, implement, and deploy customized solutions to help their clients grow and scale their IT infrastructure. Specializing in data center infrastructure, data protection, virtualization, cloud and managed services, Daymark's unique combination of in-depth technical knowledge, extensive experience, and proven methodologies enable its clients to successfully address even the most difficult technology challenges. For more information, call 781-359-3000 or visit www.daymarksi.com.
About The Channel Company
The Channel Company enables breakthrough IT channel performance with our dominant media, engaging events, expert consulting and education and innovative marketing services and platforms. As the channel catalyst, we connect and empower technology suppliers, solution providers and end-users. www.thechannelco.com
CRN is a registered trademark of The Channel Company, LLC. The Channel Company logo is a trademark of The Channel Company, LLC (registration pending). All rights reserved.