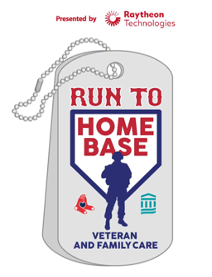 Burlington, MA, June 5, 2023 – Daymark Solutions, a leading provider of information technology solutions, today announced that for the 14th consecutive year it will support the Run to Home Base charity event, which will be held in Boston on Saturday, July 22, 2023. In addition to its employee fundraising team, "Team Daymark," the company is once again a corporate sponsor.
The annual event provides vital funds for the clinical care and support for U.S. Veterans and their Families who are impacted by the invisible wounds of war. The 2023 event consists of a 9K run or 5K run/walk through the streets of Boston with the finish line at home plate in historic Fenway Park. Thanks to generous sponsors, 100% of proceeds of the 2023 Run to Home Base will go directly toward treating these brave warriors and their families. This year's event goal is to raise $2.5 million.
"Supporting Run to Home Base is a proud Daymark tradition. The organization provides veterans and their families with access to life-changing, lifesaving care at no cost," said Brian Casey, General Manager and COO at Daymark. "Thanks to the generosity of our employees, friends, and partners, we have raised a quarter of a million dollars to date, knowing that every one of those dollars goes to help veterans and their families in need."
There are several ways to participate in the 2023 event:
9K run (5.5 miles)

5K run (3.1 miles)

5K walk (3.1 miles)

Support our team and members with a donation to Team Daymark
As a corporate sponsor once again, we are pleased to be able to offer customers an opportunity to join us in this great cause without having to meet a minimum fundraising requirement. Space is limited. Please contact Suzanne Hardy at Daymark if you would like to participate on our team.
About Run to Home Base
Following the 2007 World Series win, Red Sox players and owners met with wounded Veterans at Walter Reed Army Medical Center, and learned of the medical challenges many of our returning Veterans were facing. Red Sox Chairman Tom Werner made a commitment, following this 4-hour visit, to partner with the Massachusetts General Hospital to address the signature Invisible Wounds of War. Home Base is the first partnership of its kind in the nation between an Academic Medical Center and a Major-League Baseball team. For more information on Run to Home Base or to donate to this worthy cause, please visit: www.runtohomebase.org.
About Daymark Solutions
Daymark Solutions is an experienced technology integration and solutions provider that helps organizations throughout North America effectively architect, implement, and deploy customized solutions to help their clients grow and scale their IT infrastructure. Specializing in data center infrastructure and cloud solutions, Daymark's unique combination of in-depth technical knowledge, extensive experience, and proven methodologies enable its clients to successfully address even the most difficult technology challenges. For more information, call 781-359-3000 or visit www.daymarksi.com.