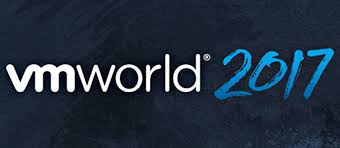 The Mandalay Bay Hotel in Las Vegas was buzzing all week with activities surrounding VMworld 2017. Here are my takeaways on VMware's many announcements:
VMware on Amazon Web Services: The big announcement was VMware's GA release of cloud services for Amazon Web Services (AWS), both running on vSphere code on bare metal, and native services protecting and managing EC2 instances. The key thing to remember is AWS is just the start. This is the initial release and they will add on new features and functionality as they go. VMware's future aim is to add Azure and Google to this list as well, providing the same level of VMware service and functionality across all the major cloud vendors.
This will enable VMware customers the opportunity of consuming VMware services, achieving VMware's vision of mobility and security across any cloud, public or private. Key features include:
Run vSphere native workloads in AWS data centers
On-demand service
Bare-metal hardware deployment
Starts at 4-node cluster and scales to 16 nodes per cluster
Run on VMware Cloud Foundation Stack: vSphere, vSAN, NSX, vCenter
NSX Cloud: VMware NSX Cloud provides a common cloud networking and security model across clouds to improve operational scalability, control, and visibility – with lower OpEx. Key features include:
Built from NSX-T code variant
Leverages an NSX Cloud gateway
NSX Cloud agent installed in EC2 VM
Full VXLAN and security features
AppDefense: AppDefense (aka Project Goldilocks) is a data center endpoint security product that protects applications running in virtualized environments. Key features include:
Capture and learn known good state of an app
Protect "known good" versus "chasing bad" behavior
Alarm and remediate when state changes
Enforce cyber hygiene policies
Cost Insight: Cost Insight enables granular visibility into public and private cloud costs, so IT leaders can compare and analyze costs across AWS, Azure and VMware. Key highlights are:
Cloud SaaS-based cost monitoring and optimization service
Think vRealize Business in the cloud, but with fewer features for now
Support for vSphere private data centers, Amazon, and Azure
Pivotal Container Service: VMware and Pivotal are collaborating to deliver Kubernetes-based container services for multi-cloud enterprises and service providers, enabling customers to deploy and consume container services with production-grade Kubernetes. Key highlights from this announcement:
Partnership with Google Cloud Services
Product-grade Kubernetes + NSX + Containers
VMware is spreading deep and wide into different cloud providers
Pulse IOT Center (Tech Preview)
Management of IOT components for the enterprise
Think manufacturing machines or "managing the robot workforce"
Wavefront: A metrics monitoring and analytics platform that handles the high-scale requirements of modern cloud-native applications, providing the capability to monitor cloud-native environments. Key features include:
Part of VMware Cloud Service SaaS Offering
Self-service app analytics for cloud instances
vROps Enterprise code base in the cloud
Deep application analytics and learning capabilities
Helps analyze and identify key metrics quickly
VMware is well on their way to completing their hybrid cloud strategy of any workload, any cloud, any device. VMware's goal and vision is to be able to facilitate online migration of workloads (running on the vSphere Could Foundation Stack) between private clouds and heterogeneous cloud vendors with full network, security, and management services following the workloads wherever they go.
As a Premier VMware Partner with multiple VMware certifications and successful cloud deployments, Daymark is well positioned to help our customers take advantage of VMware's cloud capabilities. Feel free to contact me if you'd like to hear how Daymark can help your organization.
In the meantime, many of the general sessions at VMworld are now available on-demand. I encourage you to check them out.