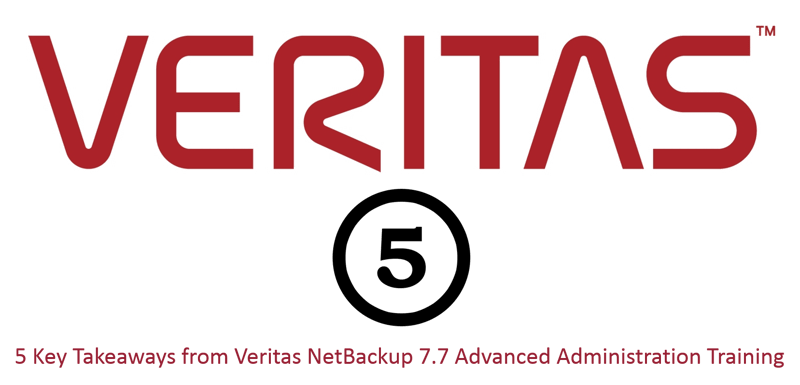 Here at our headquarters in Lexington, MA, we recently held one of the first Veritas NetBackup 7.7 Advanced Administration Training classes in New England. As NetBackup aficionados, we were anxious to learn what the certified instructor had to share on what's really new in the latest NBU 7.7 rev.

Beyond the marketing hype, here are the 5 takeaways we believe fellow IT storage admins will find worthwhile:
Intelligent Policy for SQL Server – Veritashas added a SQL Server intelligent policy for backups. It allows you to select SQL instances without creating custom scripts. Those custom scripts for each SQL instance were kind of clumsy and hard to manage. Now it's all unified in one console. You just point it at the SQL Server, back it up and walk away – truly set it and forget it.


Intelligent Policy for Hyper-V – NetBackup now allows you to build a query which backs up a specific set of VMs based on criteria you define. For example, if you only have certain servers powered on, you can select the powered on server with a single query. It's a big time saver when it comes to verification that your backups were successful.

Cloud Connector – Veritas continues to enhance support for cloud services. The new cloud connector allows you to replicate your catalog to the cloud using AIR (Auto Image Replication). They've also added support for AWS designed on Amazon S3.

NetApp cDOT Support – Now with support for NetApp cDOT you can support NDMP backups. Also, NetBackup Replication Director is able to orchestrate, index, and manage snapshots within cDOT environments.


Unified console - In previous versions of NetBackup there were two different consoles. The consoles have been unified into a single console making administration familiar across platforms.
Depending upon your environment, different features will have more appeal than others, but at the end of the day, we think Veritas has done a good job to make the life of a storage admin easier. Got questions or comments about NBU 7.7? Let us know. We'd love to hear them.

Interested in attending similar free training at our HQ in Lexington, MA? Please fill out the training inquiry form and we'll get you the details.