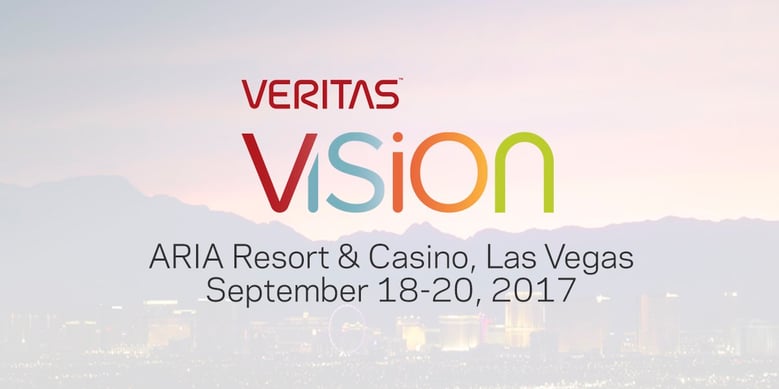 Vision 2017, Veritas' annual global conference was recently held in Las Vegas, providing customers, partners and Veritas employees the opportunity to meet and discuss the upcoming year of new releases and capabilities from the Veritas product portfolio.
The focus was on Veritas' strategy to support emerging IT industry direction and requirements. The conference was heavily themed on discussions around cloud adoption and overall product enhancements.
Key takeaways from the general keynote sessions:
Veritas is not a one stop shop for backup anymore
360 Data Management provides a single platform solution for all facets of IT in traditional, hybrid, and cloud data centers
Customers are leveraging multi-cloud data centers
Veritas is focused on rapid product expansion and accelerated support for multiple workloads
There were several major product announcements delivered at the keynote address. Here is a summary:
NetBackup 8.1 General Availability (Released on 9/26)
Cloud Catalyst – NetBackup cloud storage gateway provides 3x better performance than the nearest competitor
NetBackup now boasts the highest number of integrated cloud providers
Hyperconverged Infrastructure support (Native Nutanix Acropolis)
Emerging workload support for Hadoop and MySQL
Instant Recovery for Oracle Databases
Accelerator for EMC Isilon
Enhanced Security via Secure Communications and improved MSDP encryption
NetBackup Appliances
Flexible Virtual Appliance solutions for Remote offices and Data Centers
NetBackup 5340 (Rated for 52+ TB/hr & Scales up to 1.92 PB of capacity)
High Availability for 53XX appliance series
New consolidated interface enables single pane of glass management for multiple appliances
Cloud Point
NetBackup UI
NetBackup administrators have clamored for an update to the NetBackup user interface for years. Due to the multitude of requests, Veritas is in now the latter stages of UI development, for a possible release in the spring of 2018. Here are some highlights from the live demo of the new interface:
Machine Learning based fixes for identified pattern failures
Intelligent policy scheduling
Resource balancing
SLA notifications
Microsoft Announcement
A joint venture with Microsoft and Veritas announced the adoption of the entire suite of 360 Data Management within the Azure stack. The many Veritas product integration points generated a lot of discussion at Microsoft Ignite in Orlando. Here are a few of the features that have come with the partnership:
Azure storage integration with data discovery tool Veritas Information Map
Workload orchestration with Veritas resiliency Platform
Veritas Access extension to Azure cloud storage
Storage Optimization
A constant pain point for IT departments has always been the hardware purchase and 3-year refresh cycle especially around storage arrays. The Veritas Software Defined Storage model breaks that mold with efficiency, uptime, and constant ease of evolution. Here are the highlights of Access as a product as well as the announcement of the file based software defined storage Access Appliance due for release in early 2018:
Easily scales up & out
Ideal for long term data retention
Built in data classification
Automated workflow design
Unified storage controller – Ability to manage all storage from single policy interface
Information Map
Information Map was delivered to the Veritas community over a year ago, and provided a view into the end user's data through NetBackup which natively tracked useful file classification information such as:
Capacity
File type
Age
Usage
Additional attributes
The announcement around Information Map included 20 new data sources that will be supported over the next several months. These were successfully demonstrated in hands on labs at Vision and included Azure, Google, and Exchange mailbox discovery.
Overall Vision 2017 was packed with new product announcements and themed with Veritas' commitment to support IT organizations with innovation and ensure continued support for their flagship products. As a Veritas Platinum Partner, with over 200 technical certifications, Daymark can help you with your current and future initiatives. Please reach out to us with all questions you may have surrounding Veritas announcements and products.