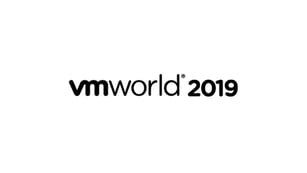 As usual, VMworld was a whirlwind of announcements, presentations, demos, meetups and networking opportunities. It's a week of non-stop activities and it's hard (actually impossible) to soak up everything. But I did manage to glean quite a bit and wanted to share my thoughts on some of the highlights and key takeaways.
Cloud, Cloud and More Cloud
VMworld kicked off on Monday with the General Session featuring Pat Gelsinger, VMware CEO. He reiterated VMware's vision moving forward by saying "We are marching to deliver any cloud for any application for any device with intrinsic security." If you'd like to watch his presentation, VMworld general sessions are now available on-demand.
Key Takeaways / Highlights:
Tanzu – VMware is making a big push to integrate container management into vSphere. Tanzu is Swahili for "Branch" and also Japanese for "Container that is designed for portability." There's a lot of interesting components of Tanzu. Be on the lookout for another blog just on this.
Kubernetes – VMware has made several strategic acquisitions (Bitnami, Pivotal and Heptio) to ensure leadership in the Kubernetes marketplace. As part of this overall effort, VMware has announced "Project Pacific" which has the goal of rearchitecting vSphere with Kubernetes support. The end result of this will be a feature called "Tanzu Mission Control" which will allow customers to manage all of their Kubernetes clusters on any cloud, manage policies and configuration, and provide developers self-service capability.
Security
Not surprisingly given Gelsinger's "intrinsic security" message, security was also a big topic at this year's VMworld with the most notable discussions around AppDefense and Carbon Black.
AppDefense and Vulnerability Management - If you are interested in the security space (I think we all should be), I would highly recommend checking out AppDefense. I will be writing more on this one too, but if you can't wait, check out some breakout session videos.
Carbon Black Acquisition – Having partnered with VMware's AppDefense team for over two years, Carbon Black is already a key component of VMware's vision for intrinsic security. This year, VMware has announced its intention to acquire Carbon Black and bring that partnership in-house. Carbon Black brings endpoint detection response, cloud-based analytics and AI to VMware in order to further realize the vision of intrinsic security.
Multicloud Management – VMware is helping customers shift to a more proactive, integrated security approach that is DevOps friendly. VMware Secure State, from CloudHealth by VMware, addresses challenges around cloud visibility, cost, security, automation and governance. VMware Secure State enables customers to visualize at-risk infrastructure, detect vulnerabilities and threats at real-time speed, and automate security and compliance across multiple clouds.
NVIDIA Partnership – VMware has partnered with NVIDIA to provide affordable, high-performance 3D graphics for virtual desktops that can be easily accessed across devices and locations. Using NVIDIA virtual GPUs (vGPUs) integrated into the Horizon desktop and application environments, organizations can easily support real-time collaboration with 3D applications at scale. VMware has announced their intent to expand this partnership in order to accelerate machine learning, data science, and AI workloads using VMware Cloud on AWS accelerated by NVIDIA GPU's.
Cloud Foundation on Dell EMC VxRail – The goal for Cloud Foundation on Dell EMC VxRail is to provide a fast and easy path to hybrid cloud. This fully integrated hybrid cloud infrastructure offering enables customers to deploy a hybrid cloud in a few days and manage and operate it as a single integrated stack. VMware announced the general availability of this capability which was beta-launched earlier in 2019 at Dell Technologies World.
Networking Intelligence - NSX Intelligence is a native, distributed analytics engine that provides continuous data-center wide visibility for network and application security teams, helping deliver a more granular and dynamic security posture, simplify compliance analysis, and streamline security operations. The engine provides detailed application topology visualization, automated security policy recommendations, continuous monitoring of every flow, and an audit trail of security policies, all built into the NSX management console for a single-pane-of-glass experience.
Not All Work, No Play!
Amid all the hecticness of the week, I was able to get to spend some quality time with Daymark customers where we enjoyed a great dinner and good conversations at Roy's Restaurant.
If you were at VMworld and want to share anything you learned or if you have questions about my experiences there, contact me. I'd love to chat.