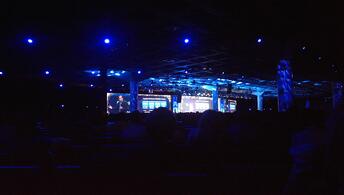 VMware has traditionally struggled in the Virtual Desktop Infrastructure (VDI) space because while customers may use vSphere to support their VDI environment, the actual brokering software is almost always Citrix instead of VMware View.

Historically, administrators faced a challenge. Either they had to have a small footprint with View Linked Clones AND needed to re-provision applications (sometimes manually) at the end of all recompose operations. Or, they had to give everyone thick persistent desktops, which ate up storage costs and thereby decreased the ROI of VDI significantly. Enter CloudVolumes.
The Value of CloudVolumes
The CloudVolumes acquisition in particular addresses a large problem that View VDI Administrators have experienced. At VMWorld I attended a session that demoed CloudVolumes in action, and saw how it can:

Provision and un-provision hundreds of applications with the click of a few buttons

Provision almost instantaneously

Provision as the desktop is kept online
These slick provisioning capabilities gives CloudVolumes two significant advantage over similar products:
No more reboot before giving users access!

CloudVolumes gives linked clones the incredible ability to support many desktops using very little storage space .
This means that administrators have the best of both worlds - fully provisioned desktops with auto-updating applications with a small storage footprint. Talk about the Promised Land!
While on the topic of VDI, another interesting VMWorld 2104 revelation came in the form of Project Fargo, which does for desktops what CloudVolumes does for applications.
CloudVolumes and Project Fargo – Better Together
This potent combination can free up considerable compute resources for VDI environments that generally have a large percentage of their desktops on and "at the ready," but not actively being used. Instant access means that those resources can be repurposed, or that the hardware footprint doesn't have to be so large, and thereby increasing the ROI argument for VDI.
New vSphere 6.0 Features
Another exciting announcement was the new beta features of vSphere 6.0. The new version of Fault Tolerance (FT) will finally support (up to four) CPUs! This means that the vCenter server can be protected using FT, so in case of a hardware failure on a vCenter host, the management of the cluster will not be affected. Think about the impact this can have on the use and architecture of a dedicated management cluster. Does rationale for it still exist?
There are still some limitations with FT, such as the need for 10GbE connectivity, but VMware has loosened other requirements, such as being able to vMotion FT protected machines, as well as support for both thick and thin volumes.
VMware on the Path to the Promised Land
The VMWorld conference may have been centered on the software defined datacenter (SDDC) and how VMware is changing their toolset to better manage the cloud, but there is no doubt that VMware is also making sure that their core products continue to add functionality that is relevant, and frankly, necessary.
There are caveats of course, the View products have all been recently acquired and haven't been fully integrated into the product yet, and the new version of FT is still in tech preview, but it looks like VMware is leading us on the right path to the Promised Land!
If you were at VMWorld, what were some of your key takeaways regarding VDI? Even if you weren't, what are some of the new VMware features your most excited about and why?
Please comment in the section below, and I'll be sure to reply.
About the Author

Michael Chen is a Consultant at Daymark Solutions and specializes in virtualization, as well as backup and data recovery for enterprise companies in Financial Services, Telecomm, and Healthcare. Michael holds various certifications from VMware, EMC, Hitachi, and Symantec