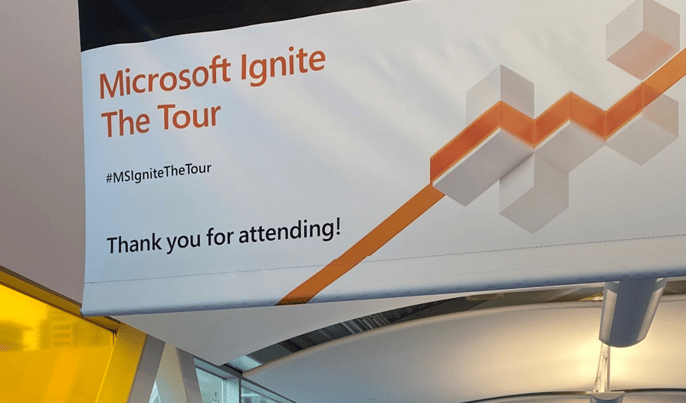 Microsoft has a well-known yearly user conference in Orlando called Ignite. But did you know there is a smaller, free version of this conference? Microsoft Ignite The Tour is set to hit 30 cities around the world in 2020, including two U.S. cities: Washington DC, Feb 6-7th and Chicago, April 15-16th.
I had the benefit of attending the first 2020 event in Toronto earlier this month. In this blog, I'll review the unique format of this event and share my personal highlights. Hopefully, I'm able to convince a few admins and business users to attend.
Format:
Ignite The Tour is a two-day conference. There was a pretty sizeable main hall which housed the standard partner sessions as well as a few theaters designed for 15-minute sessions. Be aware the theater sessions are designed to just whet your appetite on a topic. As a nice convenience, the show hall had ample seating for work or relaxing (Yes, they had bean bags).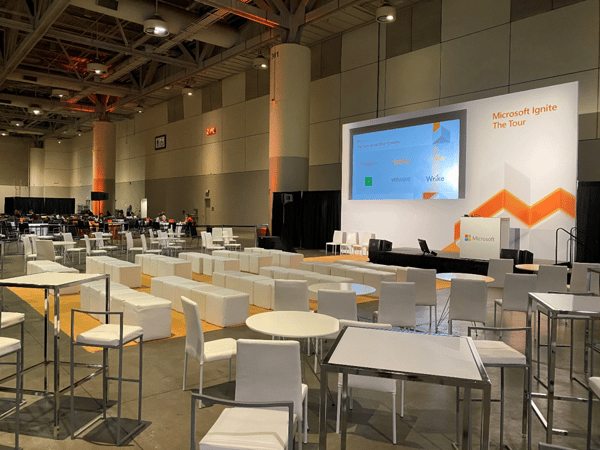 Ignite The Tour - Theater Session
All of the standard sessions were set for 45 minutes. Microsoft boasts that they have 100+ sessions, workshops, and 350+ experts on staff. The main sessions had adequate time to cover a wide range of topics. And for those who are looking for education on a particular subject, there were 16 unique session tracks, including:
Azure Fundamentals
Journey to Teams
Securing your Organization
Developers Guide to AI
Managing Cloud Operations
1 on 1 sessions:
I highly recommend scheduling an individual session especially if you have a particularly complicated question. They have Microsoft experts on hand for all of the main product sets. (Expert tip – in addition to walk-ins you can schedule a 1 on 1 via the session scheduler)
What this conference didn't include (but you may have expected):
Keynotes – This conference consisted of sessions and workshops only. This makes a lot of sense due to Microsoft's aggressive schedule for 2020. It's unlikely Microsoft execs have the time to present at 30 events throughout a year.
Structured Breaks – There are technically "breaks" in-between sessions, but in that time slot they run 15 minute "theater" sessions. If you are trying to maximize your learning as I did, be prepared to have 10 minutes to get from session to session.
Big Buffet Lunches - There are boxed lunches only at Ignite The Tour. Remember, this is a free conference and with that comes some sacrifices. It's not a terrible hardship, but just be aware there were few options, at least in Toronto.
My Takeaways:
Admin center is the future – If you haven't seen Admin Center I highly recommend you load this on a system in your environment. This will be the MMC killer (Yes… finally!). This app already handles remote management of Certificates, Logs, Roles, Firewalls, Registry, and Event logs to name a few. This application also is updated in the standard updates. So, as this system is enhanced you will get improved functionality in your normal monthly patching. Eventually this is planned to be a replacement for RSAT tools, but it doesn't completely replace all MMC functions yet.
Teams will become the heart of business innovation – Many companies are moving to, or already have, Teams deployed. User communities understand this program as an IM replacement. But the app is designed to add tabs with unique functionality. IT groups will be able to build out their own business apps and integrate them into the Teams platform. They even allow for numerous 3rd party integrations. Keep an eye out for creative business apps.
Compliance, Compliance, Compliance – Companies seeking to automate, integrate, and have an extensible compliance system should be looking at the Microsoft Ecosystem. Microsoft has put significant effort into a Compliance Portal that balances data security while keeping users productive. They currently have 10 frameworks built into their portal. And as you expand to apps within the Microsoft cloud, this compliance portal covers all of it and helps you find your dark data. Of course, you need to create data classification policies that make sense for your business. But you are able to have clean and clear dashboards that will inform you of the state of your compliance health as it pertains to various frameworks. Like any system, it does require care and feeding to tune it properly.
Power Platform – Power apps, Power Automate, and Flow have the chance to be a disruptive force when it comes to speed of innovation. With templates of simple apps to guide developers and citizen developers, Microsoft has empowered businesses to efficiently accelerate business process innovation.
Cloud shell for O365 coming soon! – PowerShell is notoriously laborious to get connected to tenants. Coming soon there will be a Cloud Shell option for Office 365 that will allow you to run PowerShell in your admin web UI. And yes, there will be options to upload your scripts.
Best Sessions:
Successfully scale the management of your Office 365 Groups and Teams
This session was a bit of bait and switch. The bottom line here is that modern workplaces should be embracing more self-service, allowing trusted members of the business to create their own groups. Managing these Office 365 groups should be done through policies which handle various parts of the lifecycle.
Prefix naming policies can assist with naming standard
Review access allows for group owners to review memberships and automate reporting for auditors
The most interesting was Expiration Policies. Allowing groups and content to automatically delete is a new concept to most. But if you allow for an owner to renew these groups (and by extension their data in other apps) it greatly reduces the IT management overhead to manage retentions for older projects. Please note: When something is "soft-deleted" it can be recovered for up to 30 days.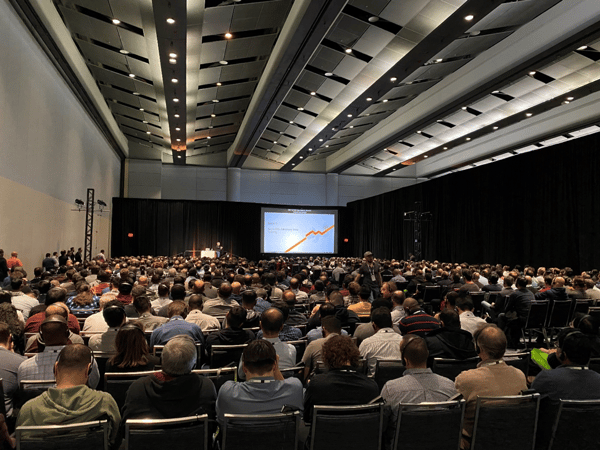 Ignite The Tour - Large Session
Getting small businesses to embrace change and adopt Microsoft 365 Business
This was a quick theater session which showed a proven path for Microsoft 365 adoption for small businesses. This focused on normal loss of forward momentum of a lift-and-shift into the Microsoft cloud (Exchange/Office/SharePoint Online). Again, Teams as a platform was highlighted as the gateway to the more advanced Microsoft apps. The focus was on small impactful processes that can be seen as big wins for the business.
Conclusions:
Microsoft has a very deep and wide ecosystem of products. This conference is fast paced, but gives you ample time to explore products of interest. I highly recommend anyone looking to deeply explore a single track or gain exposure to a variety of Microsoft applications, find and register for Ignite The Tour in a city closest to them. Personally, I found this event was perfectly tuned and well worth my time.
Added bonus: This event included free certification exams for all attendees. So, in some ways you get paid to attend! Both of the U.S. events are open for registration, once they fill up, you'll be put on a waitlist. I wouldn't wait. If you have any additional questions about the event feel free to reach out to me.
Helpful Links:
Upcoming Ignite The Tour Conferences
Chicago April 15-16, 2020
Washington DC February 6-7, 2020