The addition of Storage Lifecycle Policies (SLP's) in Symantec NetBackup 7.6 has provided backup administrators with a very effective tool for managing backup/snapshot, image, duplication, and replication.

While SLP's simplify these tasks, careful consideration is required when you're monitoring and managing the policies and the components utilized in your NetBackup environment.

The SLP administration window we all know and love, shown below, is a great tool for managing SLP's. But there are other things you should consider to help manage your SLP's.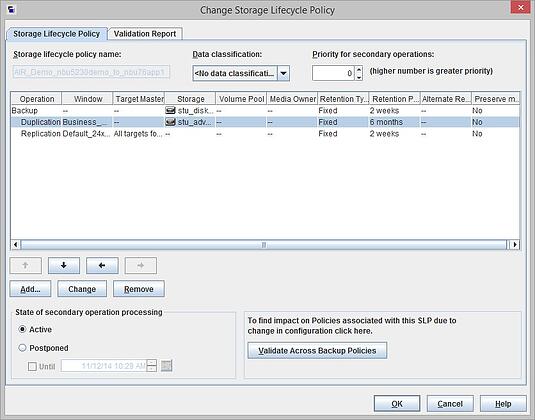 To help manage your SLP's and make sure they're optimized, please consider these (8) additional configuration tips.
Balance the workload
1. Across media servers
2. On storage devices
3. In job scheduling & priority
Device Configuration
4. Avoid using Virtual Tape Library (VTL)
5. Set for max I/O streams per volume
6. If using tape, configure an appropriate amount of drives for the workload and choose the "preserve multiplexing" option
Manage duplication/replication jobs by size
7. Configure job size in the lifecycle parameters
8. Avoid configuring a high number of duplication/replication jobs that run simultaneously against your backup jobs (Consider using SLP Windows)
Properly managing SLP's requires careful attention to monitoring and administration tasks in order to maintain a clean running environment. If not properly monitored, failing SLP jobs can consume NetBackup resources on a recurring basis due to the retry attempts following each failure – they will continue, until a successful job completion has occurred or the job is canceled.
Symantec provides tools that help monitor and correct SLP problems that can help remediate issues as they arise. These include the following:
The NetBackup CLI command "nbstlutil" is the primary tool you should use to monitor and administer SLP's, and I highly recommend becoming familiar with its capabilities, including the ability to:

Report on incomplete images and/or find failing image ID's

Delay SLP jobs

Cancel failed jobs

Ops Center for NetBackup contains reports for both SLP status and backlog that can provide valuable insight

The

latest iteration of

SLP

has evolved a good deal since its introduction in

NetBackup

v6.5. Some of the most notable

SLP

changes to

NetBackup

v7.6 are as follows:
The addition of SLP Windows – allow for the efficient scheduling of SLP duplication and replication jobs
The inclusion of the former "lifecycle parameters" file as a host properties component on the Master server
In addition, Symantec has published NetBackup 7.6 SLP Best Practices to further help guide you when working with SLP's in your environment.
---
About the Author

Chris Richley is a 24 year IT industry veteran with a background in UNIX/Linux server and Data Protection solutions design & implementation. He has spent his career working with clients across verticals including Manufacturing, Banking & Financial, Law Enforcement, Retail Sales and Healthcare. Chris is certified on various products from IBM, EMC & Symantec.