VMWorld 2014 is a wrap!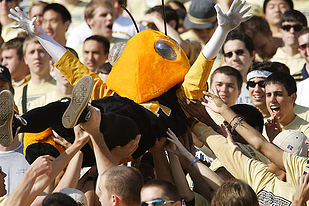 Feels good to finally get back to work and reflect on the great lineup of speakers, new trends, and general buzz from the conference.
Speaking of buzz, while it's still fresh on my mind, I'd like to share my top 10 buzz words from the 2014 conference.
1. Earthquake
Things got moving early Sunday morning before partner day with 6.0 earthquake. It woke me up with the rattling of the windows and the shaking of the bed. While the epicenter of the quake was north of San Francisco, the quake itself was definitely a topic of discussion by both attendees and presenters. It was a great reminder that we were in California and made me think about the stories I've heard from the 1989 World Series.
2. SDDC
VMware's Software Defined Data Center (SDDC) made its way to all key note addresses and most sessions I sat through. SDDC refers to VMware's capability to add flexibility, efficiency, and cost effectiveness to the modern data center by creating a virtual abstraction of the compute, storage and networking components of the data center. This is a fundamental shift for the SDDC, removing control and configuration from the hardware layer and placing it on the VMware software stack. Attendees had opportunities to see how the SDDC shift was being applied by the NFL and other large enterprises who are creating more agile IT organizations with a higher degree of control and insight into how their data centers run on a daily basis.
3. NSX
While NSX was released at last years VMWorld, the buzz here stems from the fact that VMware is the first software company to land on Gartner's Magic Quadrant for Data Center Networking. User adoption is evidenced by VMware pointing out that 4 out of 5 of the largest financial institutions have adopted NSX because of value derived from its security capabilities of application based firewalls.
NSX is the networking component of the SDDC. NSX provides powerful, flexible, and scalable network virtualization. An organization can deploy complex, mult-tiered network topologies easily while providing application security for individual VMs and vApps. That application security is portable, moving with the VM or vApp as they move around in the virtual fabric of the SDDC. NSX is just one of the tools that VMware offers to reduce OPEX and CAPEX costs by empowering choice and deployment options for IT.
4. vCloud Air
The big news on vCloud Air is the rebranding of VMware Virtual Hybrid Cloud (vCHS). While not much different from vCHS, vCloud Air offers subscription based dedicate cloud, virtual private cloud and disaster recovery services through self-service portal, and allows you to scale and consume cloud resources as you need them.
One of the changes that was announced is the roll out of an on-demand, self-service portal to accept payment via credit card. And down the road, the Disaster Recovery solution will include the same type of payment options. Additionally, VMware will be incorporating the power of NSX into their public cloud offerings. Customers will have access to the same features in the public cloud as they have in their private cloud. However, customers do not have to purchase NSX in their private cloud to leverage it in the public cloud.
The "Air" Suffix is something we are going to see more of. As VMware upgrades current solutions and releases new ones, including hosting services as well as Software-as-a-Service (SaaS), expect them to be part of the "Air" family.
5. vRealize
VMware has combined the following previously existing solutions into a single management bundle and re-branded it as vRealize.
IT Business Management Standard (ITBM)
vCloud Automation Center (vCAC)
vCenter Operations Manager (vC Ops)
Log Insight
The vRealize suite allows you to intelligently and efficiently monitor and manage your virtual environment. The idea here is not to merely focus on the solution VMware provides for doing things in IT, but to also focus on managing the things you do.
Additionally, there was an announcement about creating a SaaS offering based on this bundle called vRealize Air. Although the details are still being worked out, it is clear that vRealize Air will be a subscription based service.
6. Hyper-converged Virtualization
The major new product announcement at VMWorld 2014 was the EVO family, starting with EVO:RAIL. So what is it? Purpose built virtualization appliances sum it up pretty nicely. EVO:RAIL is meant to support 100-400 VMs. A Rail instance consists of 4 ESX hosts. A single instance supports 100 VMs. You can deploy up to 4 instances to expand your number of VMs to 400. An EVO:RAIL instance contains all you need to deploy a virtual environment; pre-defined and architected. It is a virtual data center in a box if you will.
Continuing down VMware's EVO family roadmap, EVO:RACK is something to keep an eye out for. EVO:RACK will be designed for fast and efficient deployments of a virtual datacenter and highlights a predictable cost model for deployment of a VMware environment.
7. AirWatch
VMware acquired AirWatch in January of 2014. AirWatch provides industry leading mobile device monitoring and management and is now part of the VMware toolbox. Combining the mobile management of AirWatch with other VMware products, such as the Workspace and Horizon, creates an all encompassing product line meant to service the mobile user and the mobile enterprise. The message from VMware was made clearly and repeatedly: VMware will be a part of the mobilization of IT assets as more and more workflows are moving to mobile devices.
8. Containers
Containers could have been the most interesting VMWorld 2014 buzz word that has the least to do with VMware. Containers provide the technology needed to develop an application and then deploy it anywhere. So, what does that have to do with VMware? VMware announced functionality with Docker for some of their end user computing products. Docker touts itself as technology that can "Build, Ship, and Run Any App, Anywhere." That means from OS to OS. That means from hypervisor to hypervisor. That also means from OS to mobile device. Once again, as with AirWatch, VMware is solidifying its commitment to the mobilization of IT assets.
9. "The Power of And"
In keynote after keynote address, attendees heard "the power of and" from VMware's top brass; including CEO, Pat Gelsinger and Bill Fathers, EVP & GM, Hybrid Cloud Services. VWmare is completely embracing "the power of and," which is all about allowing and empowering customers to use, build, and integrate with other products in their VMWware environment. (As supported by the Docker partnership). VMware realizes that restricting the options a customer has limits their technology. Whereas "the power of and" gives customers choices and options by removing a restricting "or" from the solution.
10. "The Brave Will Thrive"
"The brave will thrive" was another term conveyed by the VMware leadership team over and over again. "The brave will thrive" concedes that the old way of doing business in IT has become antiquated. Out - is the well-defined and constructed silos where departments work in a vacuum. In - is what VMware called a "liquid" model, where the boundaries of IT function are more amorphous. As IT becomes more and more "liquid" new paradigms will emerge. Those paradigms have risk, but they have even more potential. Risk requires courage to navigate the new sea of opportunities for those "brave" enough to face the challenges of the new IT world, thus the reference to the brave.
This vision of the brave new IT world includes many of the buzz words from #VMWorld 2014. At its essence are the concepts around SDDC powered by NSX, a hyper-converged virtualization platform to deliver a virtual environment, and embracing vCloud Air as a building block to your hybrid cloud on the way to the public cloud.
We will see how buzz-worthy these items are over time, but for now, they look like they make up an exciting landscape of IT possibilities and opportunities until VMWorld 2015, for sure.
What were memorable buzz words and your most important takeaways from VMWorld 2014? Please share your thoughts in the comments section below.
About the Author

Matthew Brady is a Senior Consultant at Daymark Solutions and manages Data Protection Services (DPS). Matthew specializes in cloud backup infrastructure and focuses on implementing cloud backup solutions for Daymark's clients. Matthew is certified in VMWare, Cisco, Asigra, and Microsoft.